Center stone is 0.47ct. marquise cut diamond set sideway in the 14k white gold along with ten round diamonds weighing o.57ct. Rest of the mounting is made of 14k rose gold set with twelve more diamonds weighing 0.47ct.
Center stone is 4.55mm,0.38ct. and two sides are 3.3mm 0.64ct., round breliant cut diamonds which are surrounded with 40 RBC melees, micro U set on halos, plus two bezels set on the sides totaling 0.26 carat. Six customers stones totaling 0.82ct. are being U set on top of the shank.
Center stone is 4.6mm round diamond weighing 0.38ct. ct. Large halo has elven 3.2/2.3mm RBC diamonds weighing 1.35ct. Center stone is also surrounded with 12, RBC diamonds weighing 0.16ct. Mounting is 14k yellow gold.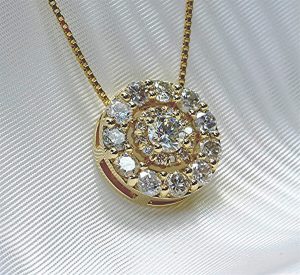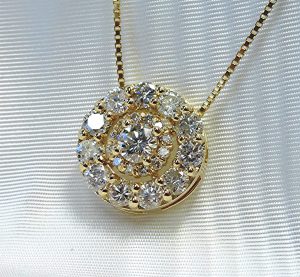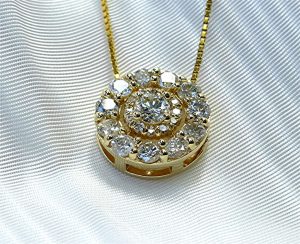 14k white diamond semi mount for 16x8mm center stone marquise shaped diamond. The three-row shank is set with 59 round breliant cut "G" "SI1" diamonds weighing 0.89 carat.
Seven cluster diamonds on top, came from customer's old ring are being reset in to a new 14k white gold mounting with 46 round micro pave set diamonds on three sides of the shank and six more bezel set on the side galleries totaling 0.59ct. finger size 7.5
Includes sixteen mixed size diamonds totaling 0.36ct. on one side and six rubies totaling 0.21ct. prong set on the other side with hidden bail on the side.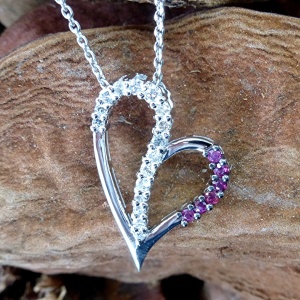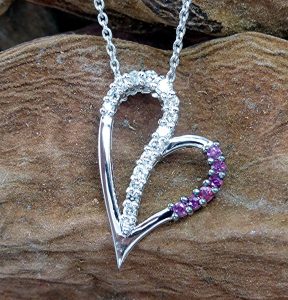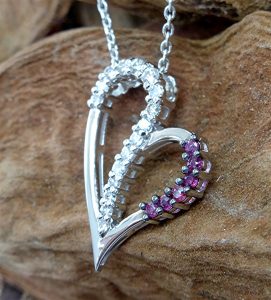 Center stone is 0.45ct.(5.0×3.9mm) diamond, set in 14k white gold mounting with 118 micro pave set round brilliant cut diamonds on all three sides of the ring. four royal blue sapphires are set on the shoulders of the ring(0.14ct.). Matching band has 30 round diamonds on top. Total diamond weight for all 118 RBC diamonds is 0.81ct. All three sides of two rings are beautifully hand engraved.
14k/24k yellow gold pendant with eight pear and marquise shaped opals and natural gold nugget and bark design bail.
Center stone is 0.71ct. Round breliant cut and two side stones are o.43ct. and 0.31ct, bezel set in twisted pattern made in 14k white gold.
Center stone is one carat emerald cut diamond with same shaped halo with 14 round brilliant diamond are cut "U" set in 14k white gold totaling 0.40ct. twenty-four princes cut diamond are set in two rows on the shoulder of the 14k yellow gold shank totaling 1.18ct. six 1.4mm/1.5mm(0.07ct.) aquamarine are bezel set on the side gallery, under the halo.