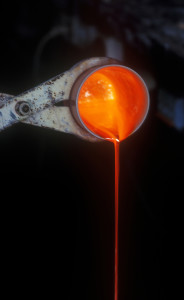 Limpid Jewelry repeatedly produces high quality castings through the application of rigorous process controls and learning through experience.
We cast variety of alloys daily and are always working to develop and offer the latest in precious metals casting. Casting is generally done on a next-day basis. Any wax received before 5:00 PM is cast the next day to be available by 12:00 Noon.
Same-Day Casting
Sometimes, tomorrow is not soon enough and you need to convert your wax to precious metal. For these occasions, ask us for five hour Same-Day Casting service. This is how works:
1) Call us a day in advance. Same day casting requires planning to be integrated into regular daily workload. Your request in advance makes the process easier and there is a better chance that we can fit the job in.
2) Let us have your wax models before 10 am. Your job is ready by 3 pm. If we have your wax model in time, your casting can be shipped the same day.
Available Gold alloys
Standard 14k white: Very white, somewhat hard. As white as can be without sacrificing cast-ability or workability
Standard 18k white: A rich vanilla color
Standard 14k yellow: neutral yellow without green or red tint
Standard 18k yellow: neutral yellow without green or red tint
Premium 18k green: a green as yellow metal can be.
Premium 14k pink: deep rose color
Premium 18k pink: deep rose color
Gold/palladium 14k: with a very slight gray gun-metal undertone
Gold/palladium 18k: with a very slight gray gun-metal undertone slightly darker than 14k
Special alloys: these alloys are very easy to cast and makes very clean models.
Available in yellow 8k,10k,12k,21k,22k. 12k white.
Also available in, 18k & 14k white and yellow spring, Zinc-Free Yellow for enamel.
Available Platinum alloys
90% Platinum, 10 % Iridium – It is white, casts wells, works well and wears well. The only limitation is that you can't stamp it PLAT (without the 90 qualifier).
95% Platinum, 5% Iridium – This metal is white, casts well, but is very soft. It is completely unsuitable for settings or light pieces, and even heavy pieces show wear rapidly. Still, it is the metal we cast the most.
95% Platinum, 5% Ruthenium – The Ruthenium alloy is gives the Platinum a very slight gray color. The metal casts and finishes reasonably well, and is very durable.
95% Platinum, 5% Cobalt – This metal is very slightly blue and is slightly magnetic. We cast Pt/Ru only on special order.
950 Spring Platinum – Very difficult to cast and finish, but the only alloy suitable for tension setting
Available Silver alloys
Silver: 0.925 sterling
Silver: 0.295 De-ox tarnish resistance
Silver: 0.999 fines.
Available Palladium alloy
Is only 950 Pd